Page 35: Up Up and Away!

So are you and Lymia gonna take this mummy back to your house and put it in your collection of awesome ancient stuff?
---

Hah, not quite. First of all, I mainly collect magic items, and there ain't any magic here - just some clever old technology. Usually nothing magical gets buried this close to the queen, since that'd make it more likely for the burial site to get found and disturbed.
---

Secondly, the Kiteras care deeply about their history, and wouldn't exactly take kindly to me stealing one of their pharaohs. I just came here to locate and study these ruins, and then share my findings with some other archeologists I'm in contact with. I probably wouldn't've even found this place without their help!

---

Besides, in exchange for finding these pyramids, they're letting me borrow any magical artifacts I do find down here, so I can study 'em and make working replicas of 'em later, hehe.
---

Hey, I got an idea! If you wanna keep exploring this place and find cool magic stuff anyway, maybe me and Lymia can go tell your cat friends about what you found! I've been trying to get back to civilization anyway, cuz I'm supposed to be showing the hyoomens what Kiteras are like!
---

Oh, so you are doing that documentary thingy after all! I'm so proud of you, Nhinee~
I can totally take you where the kitties live! It'd be extra super quick for me to get over there, after all.
---

Hrm... I guess that would work out alright. Just make it fast though. Kite's always got my back and I've got some protective artifacts with me in case of traps, but I feel a lot better down here with your expertise at my disposal.
---

Aww, you feel safer with me around... ❤
Don't you worry your cute little head, Ban-ban! I promise I'll come right back!

---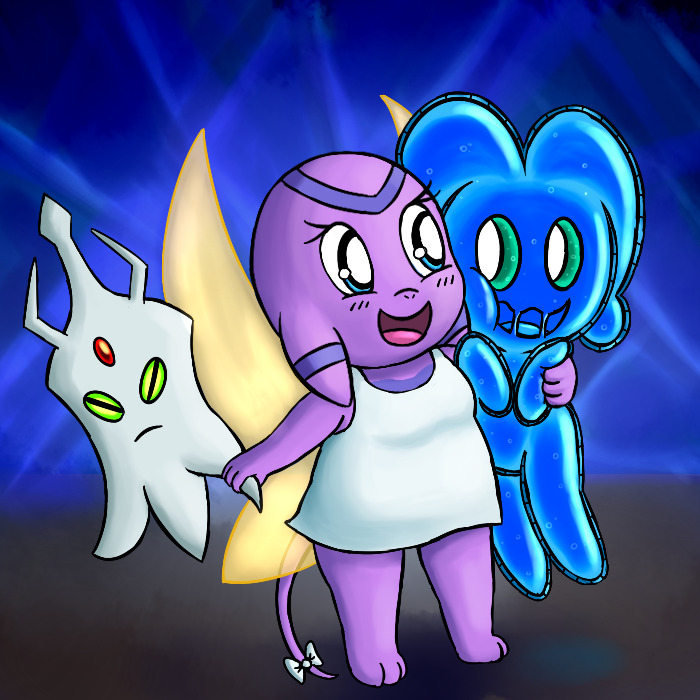 ---

Soooo, are you ready?
---

She's gonna do the thing! Don't blink, or you're gonna miss it!
---

SUPERLUMINA!!
---

Come on, you don't need to yell that out every time you–
---
◀ Previous Blob
Next Blob ►