Page 19: The Fog

Ah, I knew it wouldn't be too long before we'd find one of these. Behold, civilization!
---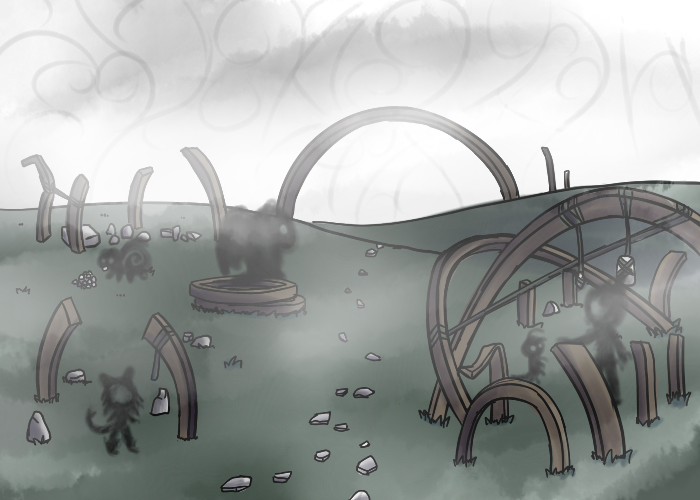 ---

Wooooah, ghosts can build little cities and stuff?
...Wait, doesn't that mean every house is a haunted house?
What do you even do in a ghost town?
---

Well, I guess there's only one way to find out. Hey there!

---

ℍ𝕖𝕝𝕝𝕠. 𝕎𝕖𝕝𝕔𝕠𝕞𝕖 𝕥𝕠 𝕥𝕙𝕖 𝕔𝕚𝕥𝕪 𝕠𝕗
---

...uh, what was that? I didn't really catch that last part...
---

𝕎𝕖𝕝𝕔𝕠𝕞𝕖 𝕥𝕠 𝕠𝕦𝕣 𝕝𝕠𝕧𝕖𝕝𝕪 𝕔𝕚𝕥𝕪.
---

Eh, good enough. I'm new here, so I just need someone to show me around so I–
---

𝕊𝕠 𝕗𝕠𝕠𝕝𝕚𝕤𝕙 𝕠𝕗 𝕞𝕖, 𝕀'𝕧𝕖 𝕞𝕚𝕤𝕡𝕝𝕒𝕔𝕖𝕕 𝕞𝕪 𝕗𝕒𝕔𝕖. 𝕀 𝕔𝕒𝕟'𝕥 𝕗𝕒𝕔𝕖 𝕤𝕠𝕞𝕖𝕠𝕟𝕖 𝕨𝕚𝕥𝕙𝕠𝕦𝕥 𝕞𝕪 𝕗𝕒𝕔𝕖. ℍ𝕠𝕨 𝕗𝕠𝕠𝕝𝕚𝕤𝕙, 𝕙𝕠𝕨 𝕗𝕠𝕠𝕝𝕚𝕤𝕙.
𝕀𝕥 𝕞𝕦𝕤𝕥 𝕙𝕒𝕧𝕖 𝕨𝕒𝕤𝕙𝕖𝕕 𝕠𝕗𝕗 𝕚𝕟 𝕥𝕙𝕖 𝕣𝕚𝕧𝕖𝕣. 𝔼𝕧𝕖𝕣𝕪𝕥𝕙𝕚𝕟𝕘 𝕕𝕠𝕖𝕤. 𝕀𝕥 𝕒𝕝𝕝 𝕨𝕒𝕤𝕙𝕖𝕤 𝕒𝕨𝕒𝕪...
---

Aw come on! Are all the ghosts here like this? Every time I talk to one they just start rambling some nonsense and then walk away!

---

Some phantoms can be difficult to understand at times, but each of these wandering souls is still a unique individual with different circumstances. You cannot generalize them so simply.
---

𝕐𝕠𝕦𝕣 𝕗𝕣𝕚𝕖𝕟𝕕 𝕚𝕤 𝕣𝕚𝕘𝕙𝕥. ℙ𝕝𝕖𝕒𝕤𝕖 𝕕𝕠𝕟'𝕥 𝕤𝕒𝕪 𝕞𝕖𝕒𝕟 𝕥𝕙𝕚𝕟𝕘𝕤, 𝕠𝕣 𝕪𝕠𝕦 𝕔𝕒𝕟'𝕥 𝕙𝕒𝕧𝕖 𝕠𝕟𝕖 𝕠𝕗 𝕞𝕪 𝕣𝕠𝕔𝕜𝕤.
---

Ah jeez, I'm sorry...
I mean. I don't... actually need any rocks anyway, but I didn't mean to upset you either?
---

𝔸𝕝𝕝 𝕣𝕚𝕘𝕙𝕥. 𝕀 𝕙𝕒𝕧𝕖 𝕞𝕒𝕟𝕪 𝕣𝕠𝕔𝕜𝕤 𝕥𝕙𝕠𝕦𝕘𝕙, 𝕤𝕠 𝕚𝕗 𝕪𝕠𝕦 𝕔𝕙𝕒𝕟𝕘𝕖 𝕪𝕠𝕦𝕣 𝕞𝕚𝕟𝕕, 𝕪𝕠𝕦 𝕞𝕒𝕪 𝕙𝕒𝕧𝕖 𝕤𝕠𝕞𝕖.
---

Okay, I guess that one's a little more normal... ish?

Hey, wait. Isn't that one of those snail people from Nygoria though? I thought those guys can't talk.
---

As I told you before: all souls are equal in death. That phantom may have belonged to a Conclainian in life, but now they're just another soul like you or me.
Besides, "talking" is something that the living do by making vibrations in the air. Strictly speaking, neither you nor I have "talked" ever since we left the graveyard.
---

Aah, what the heck? Forget all that, something weird's happening to that one ghost over there!
---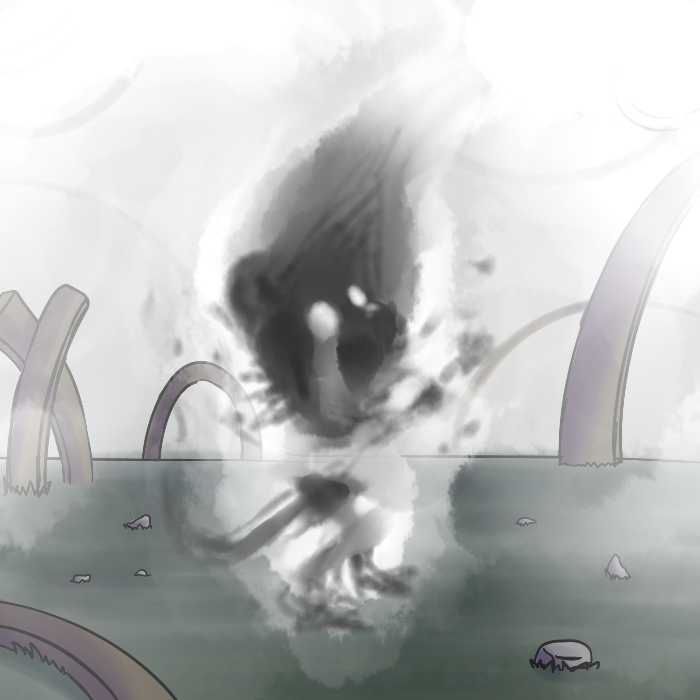 ---

𝕚𝕥'𝕤 𝕔𝕠𝕞𝕚𝕟𝕘...𝕓𝕦𝕥 𝕞𝕒𝕪𝕓𝕖 𝕥𝕙𝕚𝕤 𝕚𝕤 𝕓𝕖𝕥𝕥𝕖𝕣 𝕒𝕟𝕪𝕨𝕒𝕪. 𝕀 𝕞𝕚𝕘𝕙𝕥 𝕓𝕖 𝕒𝕓𝕝𝕖 𝕥𝕠 𝕤𝕖𝕖 𝕪𝕠𝕦 𝕒𝕘𝕒𝕚𝕟, 𝕥𝕙𝕚𝕤 𝕨𝕒𝕪...
---

Oh, Perfect. I was hoping you'd get to see this happen to someone.

---

Why?? It looks like they're crying... and breaking into pieces...
Shouldn't someone help them?
---

Very few forces in the entire multiverse can dare to interfere with what is happening right now.
This phantom has accepted its fate, and is entering eternity. All semblance of their former shape is dissolving away, and they will soon become one with The Fog.
---

Oh my gosh, the air IS dead people...!

◀ Previous Blob
Next Blob ►