Page 26: Feats of Strength!

Ahhh, so good! Sorry, I just really needed that!
---

Hey wait, I think I just felt something...
I think I got it...!

---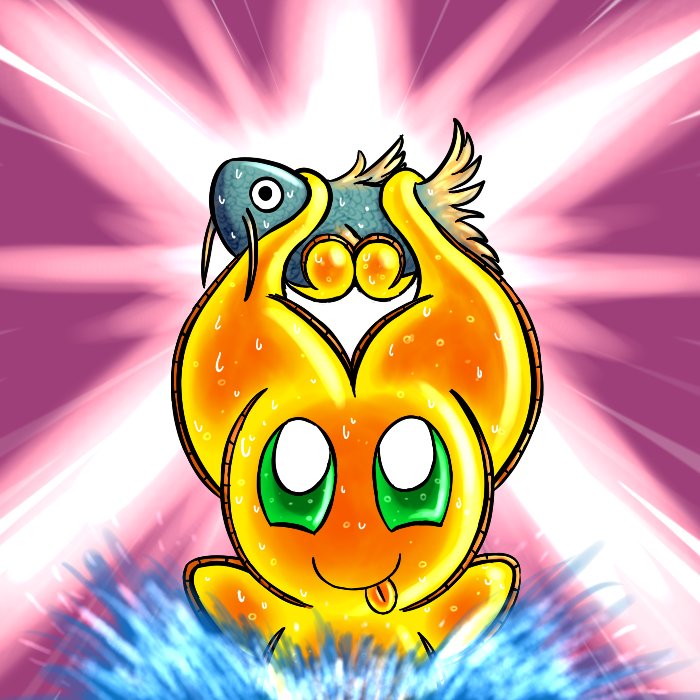 ---

FIIIIIIISH!
---

Bravo! Excellent hunting skills! Frilled Wrigglers are not an easy catch!

---

Hehe, thanks! I think I just got lucky though.
---

No such thing as luck, as far as I'm concerned. Every day's a battle, and every victory should be celebrated!
It's nice to see you have a taste for fish too. That's a staple food for us, you know. Plus fish have a special significance to me in particular.

---

Huh, so is that why you wear a fish shirt? Just cuz you like food?
Cuz if so, I'm totally on board with that!
---

Gehehe, you're not entirely wrong, but there's also a little more to it than that.
---

We Glydros take pride in everything we do. But there are many ways a person can be mighty, and it's up to you to discover what you truly shine at! My name may be Galevei, but my Title is Swiftjaw. I earned it many years ago after perfecting my fishing technique. No fish, nor frog, nor any other creature of the river can escape my bite!
Of course, now that I have a telekinetic squid connected to my brain there's not as much reason for me to hunt manually anymore.

---

So wait, is a title kind of like a last name? Should I call you Galevei Swiftjaw?
---

If you want to be formal, yeah. Just saying my name's good enough since we're friends and all.

---

We don't really have last names here, but yes, titles are something like that. I guess you could say they're like a last name that you pick for yourself once you've found something you're really good at.

For some people, the title is really important to them though, especially if they underwent great hardship to earn it. Some Glydros go as far as insisting on being called by their title alone, even among friends and family!
---

You know, my name's always been just plain old "Nhimor"... I wonder if I should have a cool title too! It would have to be something I'm really good at...

---

I know! I could be called... Nhimor Personsmoocher!
---

You could call yourself that if you want! A title can reflect any kind of strength, and many tourists who come to Rhiotara end up picking out titles for themselves just for fun. Though if you wanted to actually get it officialized and taken seriously, you'd need to arrange for a public ceremony where you prove your particular strength in front of a jury of peers.
---

Anyway, I should get going now. I'm glad I could help you give the hyu-people a taste of our corner of Zoincailla!
---

Aww, alright. I hope I get to see you again...
---

Incoming data...

Contact details for [Galevei Swiftjaw] have been received from [Bidenthead] belonging to [Galevei Swiftjaw].

---

Yaay! Thanks so much!
---

Gehehe, sure thing. See you later, Nhimor Personsmoocher.
---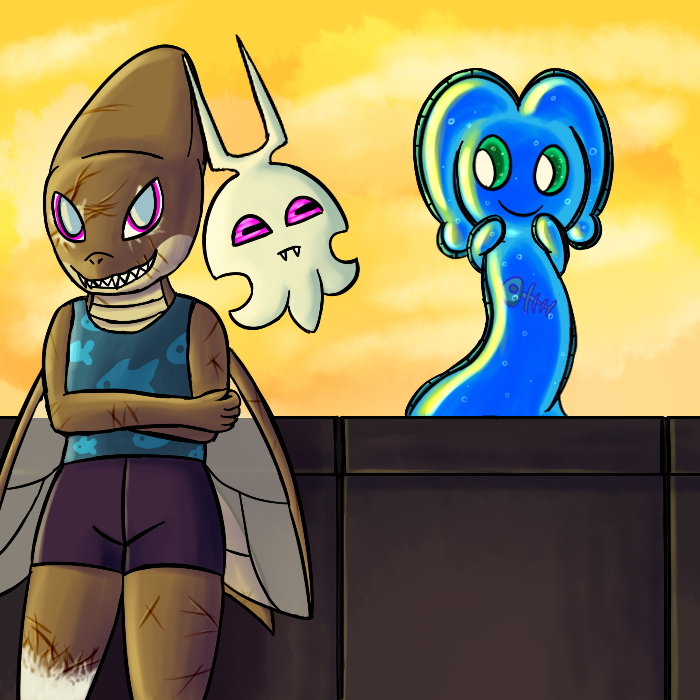 ◀ Previous Blob
Next Blob ►