Page 6: Precursors

Hey, it's been forever since you came up here! What's up?
---

(You didn't need to shove me aside just to say that...)
---

Oh, I was actually just looking for Lymia so I could bum a ride off of her.
---

Excuses, excuses. You're probably just hoping she'll ~smooch~ you again!
---

Why would I need her for that when there's already three perfectly smoochable cuties right in front of me?
---

Awwwww! <3
---

Don't worry, there's literally plenty of me to go around!
---

Be advised that this recording is meant to be educational in nature. Flagrant flirting with the local Lepatoids may prove counter-productive.
---

Nobody asked you!
---

Did it just say "recording?" Are you making a movie, Nhimor?
---

Oh, yeah I am! I'm doing this whole big thing where I show off cool stuff from Zoincailla.
---

Hey, we're cool stuff from Zoincailla! You should just make your movie be about us!
---

Hey, good idea! Go ahead and tell everyone all about where the cute fairies came from!
---

I'll try! We're Lepatoids, a species that goes all the way back to prehistoric times! It's said that all sentient life forms have one common ancestor species, and well... and we're it!
---

No no no, you got it wrong. We're not the ancestor species, the Precursors are!
---

Isn't that just a theory or a legend or something?
---

It is just a theory, but our own existence is huge evidence for it!
---

Details, details... I was trying to simplify things so we wouldn't bore them, but fine, I'll include the part about the Precursors first.
---

Alright, so, it's believed that all sentient life came from an ancient race called "The Precursors." They were a species that–
---

Displaying visual aid for "Precursor."
---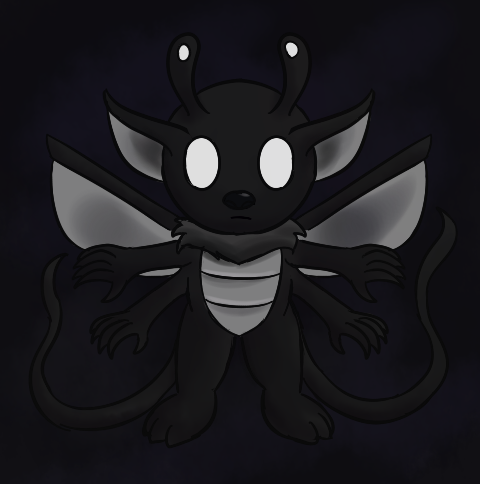 ---

Oh–yes, thank you very much.
---

...so The Precursors were a species that was really prone to mutations in the DNA they passed on to their children. Every new generation of offspring often looked quite different from the previous.
---

Apparently the mutations weren't even random, right? They responded to a whole bunch of different things! Like if one of them moved somewhere cold, their kids might come out with thicker fur and stuff. Sometimes their kids even got adaptations based on stuff like what food their parents ate? Or even what kind of activities they did. Like if your parents both swam a whole bunch, you could end up with fins even if neither of them had those! How wild is that?
---

...basically any experiences a Precursor had in life could influence the traits that get passed on to its young. Whatever one struggled with, its child would gain adaptations suited to better face those conditions. And of course, cross-breeding between different Precursor communities only increased their diversity. Soon they came in all different shapes and sizes across Zoincailla!
---

Okay, this is some good stuff! But there's something I've always been wondering about this whole story whenever I hear about it. If the "Precursors" were so great and always adapting to everything, how come they're all gone now?
---

Ooh, ooh, I know this one! And it's actually related to what Lepatoids are, too...

◀ Previous Blob
Next Blob ►