Page 11: Alakinec

We're finally here on planet Alakinec! I can already feel the humidity soaking into my cytoplasm. Which is a good thing, of course. I mean, nobody likes having dry cytoplasm, am I right?
---

I skipped showing you all the boring stuff that comes with landing a spaceship, and just found a cool place to show you instead. Check it out, it's a shopping mall in the jungle, run by dinosaurs!
---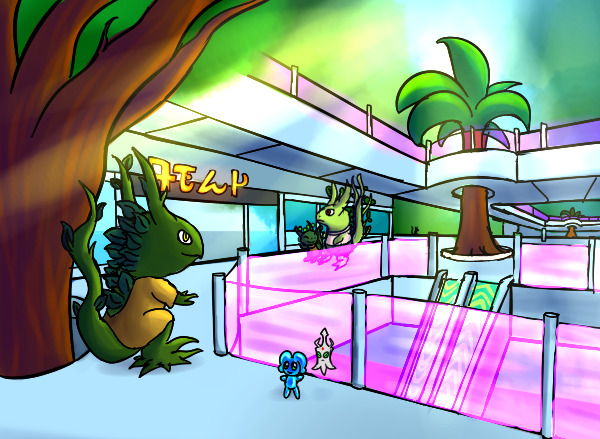 ---

The Kinncillians are mobile plant-based life-forms, and have no relation to-
---

Yeah yeah, they're plant-dinos, I already said that before!
---

Look how shiny and clean this place is. These guys recycle everything, just like I do! Except instead of eating all their trash, they just use it to make buildings and stuff. Even though they've got advanced tech, they really like coexisting with all the trees and naturey stuff around them instead of chopping it all up. I think that's cuz Kincillians are kinda like little trees so they really care about the bigger trees or something.
---

...well I guess "little" isn't really the right word. I mean everything's GIGANTIC here! I heard you hyoomens are like twice my current size or something? Well most Kinncillians are like... FOUR times my size, so that's probably like two whole hyoomens tall at least!

---

Kinncillians do not ever completely stop growing during their lifespans, though their growth slows significantly upon reaching physical maturity. Average height is between [10 and 15 feet tall], but there have been individuals that have exceeded [20 feet tall].
---

*I* can technically be as big as I want though. Give me enough food and I could totally grow as big as a Kinncillian...
---

Whatever, time to go find some big plant dudes and bug them on camera, I guess!

◀ Previous Blob
Next Blob ►