Page 12: Kinncillian(s)

Hey you! Helllooooo? Can you hear me?
---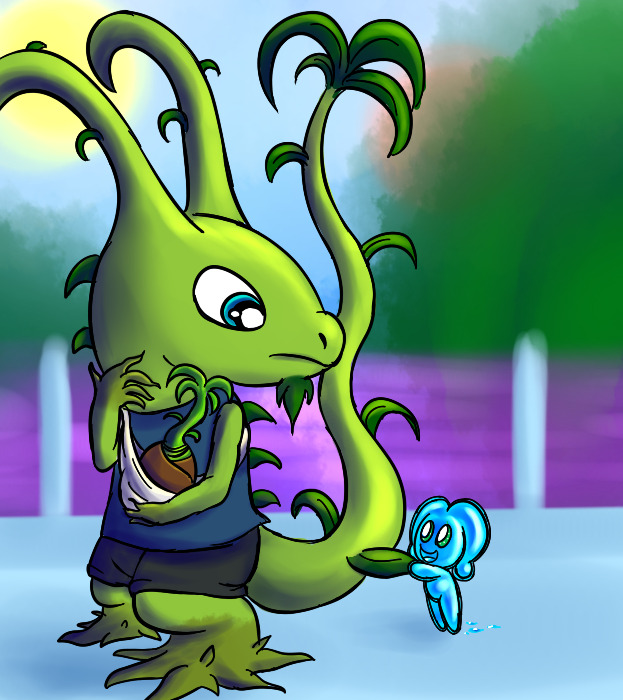 ---

Huh? What's going on?
---

Yo!!
---

Alright alright, you got my attention, little dude. Just be gentle on the leaves, yeah?
What do you need?
---

I'm visiting Alakinec for the first time in forever, and I want to hear some cool stuff about Kinncillians! And you're a Kinncillian who looks pretty cool!
---

Your words and actions will be recorded as part of an educational documentary that Nhimor is working on. A liability waiver can be psychically transmitted to you upon request.
---

Nah that's cool, I get it. I'm all for education and all that. It's just, my hands are kind of full though, since it's my turn to watch the kid and all.
---

The kid? What kid?
...wait, you mean that pineapple-looking thing??
---

Yeah, man! This is my pride and joy! You can even see the cute little tail sticking out...

Come on, sweet stuff, why don't you introduce yourself to our guest?
---

...
---

Uh... I didn't hear anything?
---

Eh, they're still a bit shy at this age. But in just a couple weeks it'll be time to put this little bud in the ground, and before you know it our baby will be stomping across the forest floor!
---

That's awesome! I wish I could grow superhuge by just lying in the dirt for awhile.
---

I was right, this dino *is* pretty cool. I wonder what other stuff I can get outta this guy...

◀ Previous Blob
Next Blob ►