Page 38: Old Dead Cats Wore Cool Clothes!

I should get going before Ban-Ban misses me too much. Have fun, you two!~
---

Alright, see ya later! Thanks for the lift!
---

Right, so anyway... you wanted me to contribute to your documentary, yes? What would you like me to talk about?
---

Well, me and my squid already showed the hyoomens those ruins you've been studying, but they don't really know much about actual kiteras yet!
---

...and actually, *I* have a question I wanna ask first. How come some kiteras walk on all fours like you, but others walk around on two legs?
---

Ah, that's... a more basic question than I was expecting.
---

In any case the answer to that is simple: kiteras have a unique form of sexual dimorphism. Males like myself are typically quadrupedal, and possess strong forelimbs with hard mineral plating on them.
Meanwhile female kiteras typically stand upright, supported by two strong hindlegs with tough plated feed.
---

So if I wanna look manly and cool in front of a cute cat, I should try standing on four legs?

---

Ah? Uh... yes, I suppose in a sense you could maybe say that...
Forgive me, I had... actually thought you were a woman, to be honest.
---

Huh... well, I think I'm a "he," but in my species everyone's kinda ladies and dudes at the same time anyway? We're all just blobs and we can't tell the difference!
---

Well in any case, ancient kitera society was largely matriarchal in nature. The twin pyramids you saw are the resting place of a pair of ancient queens.

---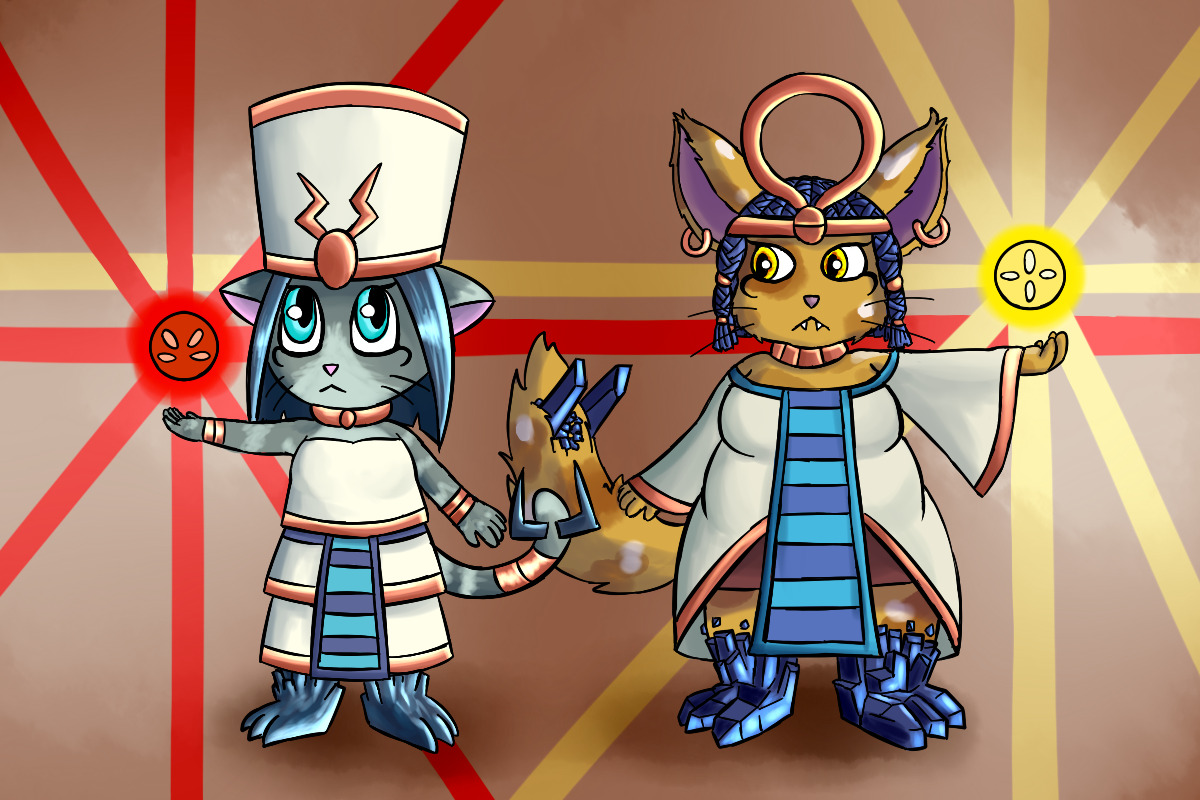 ---

Subjects identified as Queen Seralda VI, and Queen Ihrmneb. As was tradition, a pair of queens ruled over the ancient Kitera of this time, believed to be the living incarnations of the sun goddesses that the kiteras worshiped.
---

That's correct. Their Highnesses were both central figures of society, and were revered as deities. It was also believed that one day, the Third Sun would be found in the center of Rhiotara, and from it would emerge a Third Pharaoh, who would unite with her fellow queens and bring us all into the True Surface, above even the sky.
Digging further and further underground was seen as holy work, part of an ongoing journey to uncover the Third Sun.
◀ Previous Blob
Next Blob ►