Page 41: Home Sweet Home...?

Hey, it's me again! Since you last saw me, I just landed my ship on a whole new world... except for me, it's not new at all.
That's right, I decided I'm gonna show you my home planet next! Remember way far back when I was walking in the rain on Alakinec and I talked about it a little? I showed you a picture of it and everything, it's called Syndomera and it looks kinda like this:
---
---

Warning! The surface conditions of planet Syndomera are hostile to most forms of life. Exiting the ship right now without proper safety equipment may put you at risk of fatal irradiation, lung damage, suffocation, eye damage, skin damage, nausea, mental assault, mercury poisoning...
---

For the last time, I'm an Ozecium! Yeah I know my home world sucks, and yeah my track record for not following safety warnings and then getting immediately owned has been kind of high lately. But I literally lived here for years! This is where I came from!
---

Acknowledged. Disabling safety locks.
---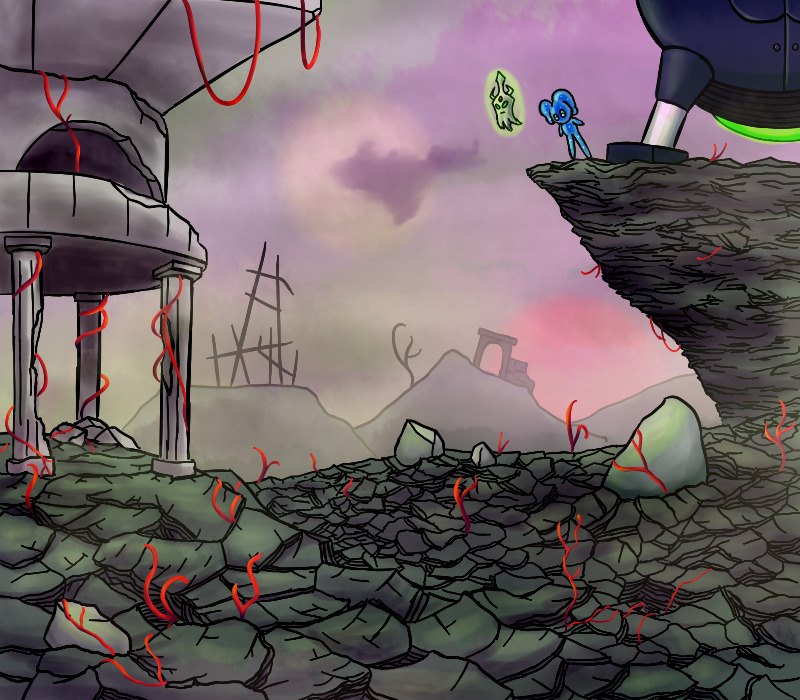 ---

Current environment is hostile to my systems.
Engaging personal PSI shield, at setting 3e.

Breathing has been set to filtered mode.

---

So, this is the place where I grew up! Well sort of. I mean blobs don't really grow into anything specific, and I didn't actually grow up here in particular, but I think you know what I mean.
Anyway, Syndomera's a big dump with lots of ruins and wastelands. It's still got... some stuff, though. Like those red plant things, those still grow in a lot of places. Some scientists said the plants feed off of radiation instead of sunlight, cuz the sunlight here sucks. I guess they also don't need much water, cuz right now we're in the drylands where there's no water and the ground flakes and crumbles apart like way-too-burnt cheesebread. You get tired of how the red plants taste after awhile but in a lot of cases the other options for a blob to eat are dirty water or just plain dirt.
---

I'm hoping I get to show you some other blobs while I'm here too, but that might be be a little tricky. Honestly I landed in such a dried out place on purpose so that I wouldn't see a blob first thing... since a lot of other ozecia are... not so nice, especially to each other. If I find a nice one I'll make sure to show you though...
◀ Previous Blob
Next Blob ►